Shopping online with your Cashplus Mastercard
Everything you need to know about 3D secure

3D Secure is a security tool that helps keep you safe when shopping online. It involves a two-factor authentication to check it's you making a purchase with your card and not someone else. We've used 3D Secure for some time and recently updated how it works with your Cashplus current account.

Now, when you're shopping online with your Cashplus debit card you'll be asked to confirm purchases via the Cashplus Bank App instead of using an SMS One Time Password. If you don't have the app or you're using a Cashplus credit card, you'll continue to use the SMS One Time Password process.
What these updates mean for you
When you make an online purchase with a retailer who participates with 3D Secure, you'll now be asked to approve your purchase in the Cashplus Bank App if you have the app. You can confirm the purchase by either answering a memorable question or using Face/Touch ID if this is set up on your device/app.
In-app approvals for 3D Secure are only available for Cashplus business or personal accounts. Credit card customers will continue to approve their purchases using the SMS One Time Password even if they have the app.
If you get a 3D Secure notification on your phone and it's not familiar, you can review in the app and if you don't want to proceed with the purchase, you can cancel it. For more information on how to spot scammers, check out our Cybersecurity Essentials blog.
Make sure you have app notifications enabled so you can receive notifications about any 3D Secure purchases using your card. Here's how to set up app notifications.
If you don't have the latest Cashplus Bank App, download it today.

What is 3D Secure?
3D Secure (also known as Mastercard Identity Check) is a fraud protection tool that allows you to securely make online purchases using your Cashplus Bank Mastercard via two-factor authentication, providing an added level of security for your online shopping. When making purchases with participating online retailers, you'll sometimes be asked to approve your purchase in the Cashplus Bank App.

Previously you would have entered a One Time Password sent to the mobile number registered to your Cashplus Bank account (the SMS process will continue to customers without the app).
Important: Cashplus will never contact you to ask you to complete a purchase using 3D Secure in the app or by sharing your SMS one time passwords. If someone does ask you to do this, they are likely to be a fraudster.

See below for an example of what a 3D Secure check might look like in your browser.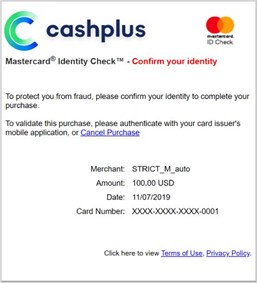 When am I going to encounter 3D Secure and why?
You'll only have to follow the 3D Secure app approval process with online shops that are registered to 3D Secure / Mastercard Identity Check. You'll be able to tell if the app approval is required for a retailer as the Mastercard Identity Check logo will be displayed on the company's website (see the screenshot above). The process has been put in place to check that it's really you making the purchase with your card.
It pays to note that the new 3D Secure app approval process is being rolled out in phases, so there's a chance you may need to enter the SMS One Time Password during this transition time. Rest assured, we'll let you know by email when it'll be introduced for you.
No app? Don't worry, you can still shop online without the app
If you don't have the Cashplus Bank App, you'll continue to receive an SMS One Time Password (six or eight digits) sent to the mobile phone registered to your Cashplus Bank account. Enter this password and your purchase will be good to go.
If you remove the app from your device, you'll need to call our Customer Services team in order to go back to the SMS One Time Password process.
Make sure that you always keep your mobile number updated in Online Banking and the Cashplus Bank App. You can do this by following the steps below:
In Online Banking:
Go to Settings

Click on Account Details

Click on Edit My Details and update mobile number

Click Save to update
In the Cashplus Bank App:
Go to Settings

Go to Personal Details

Tap Edit and select Mobile Number  to update mobile number

Tap Save to update
Please note, if you're a Credit Card holder and you want to update your mobile number, you'll have to give us a call.
For more information, please visit our FAQs on 3D Secure.
This content was updated on 17th April 2023
Terms and Conditions apply, including applicants being resident in the UK & aged 18+ and, if relevant, businesses being based in the UK.
For full website terms including information on Cashplus Bank, Mastercard and use of Trademarks, please see our full legal disclosures at https://www.cashplus.com/legal/.
Advanced Payment Solutions Limited (APS), trading as Cashplus Bank, is registered in England and Wales at Cottons Centre, Cottons Lane, London SE1 2QG (No.04947027). APS is authorised by the Prudential Regulation Authority and regulated by the Financial Conduct Authority and the Prudential Regulation Authority under Firm Reference Number 671140.
APS provides credit facilities subject to approval and affordability, and where accounts continue to meet APS credit criteria.